A pageant of painted and sewn fabric figures representing clubs and activities in Castle Cary and Ansford. The mural created by 120 adults and children from the community and co-ordinated by Kate Lynch and Lydie Gardner, is on permanent display in the Caryford Community Hall.
The Caryford Community Hall Committee would like to thank the following organisations and individuals who generously supported this project to date (February 1998).
Two additional drops on both sides were subsequently added to depict the communities millenium celebrations.
Ansford Community School
Ansford Parish Council
Peter Booth - Bailey Hill Bookshop
Nigel Begg - Architects
Cary Reels
Castle Cary Carnival Committee
Castle Cary Primary School
Castle Cary Town Council
Clarks Limited
Community Council for Somerset
Richard Donkersley - Furniture Maker
Dave Galpin - Electrician
Hobhouse Memorial Trust
David Lawerence - Carpenter
Mid-Somerset Community Chest
Planet House Stationers
Rural Action
South Somerset District Council
Take Art! and Artseed
Tea Dance Group
Patchworks created by Ansford Community School & Members of Castle Cary and Ansford Community
These are two of 56 panels exhibitted in 1997 at the Victoria & Albert Museum, London; where they together formed a "Shamiana" (popular Indian ceromonial tent, shelter or awning; commonly used for outdoors parties, marriages, feasts, etc.). The panels subsequently toured the UK and Asia between October 1997 & December 2000. Most of the panels were created by groups of ethnic Asian women from the UK and across the world with the help of V&A facilitators.
Unusually, the two displayed here were designed and hand made by embroiderers who were a mix of women and girls from Somerset having no Asian routes.
Lydie Gardner, local textile artist, together with Lin Hawkins, Head of Art at Ansford Community School, led the project; with support of Fahmida Shah of the V&A.
The Stitchers comments:
The abstract design is based on patterns we saw in the lattice screens (known as "Jalis") in the Nehru Gallery of Victoria & Albert Museum. We decided to use traditional English patchwork as we felt it was a nice way of fusing ideas from many cultures. The finishing touches included gold, sequins and mirror glass (shisha) as we thought this would give our very English patchwork a more Asian look. We enjoyed the our glitzy bits shimmered when they caught the light.
Jalis Screen
Participants:
Ann Bertalot, Gabrielle Davies, Nora Field, Shirley Knapman, Jane Long, Freda Sharp, Ruth Stones, Joyce Trikilis, Sallie Vallins, Joan Williamson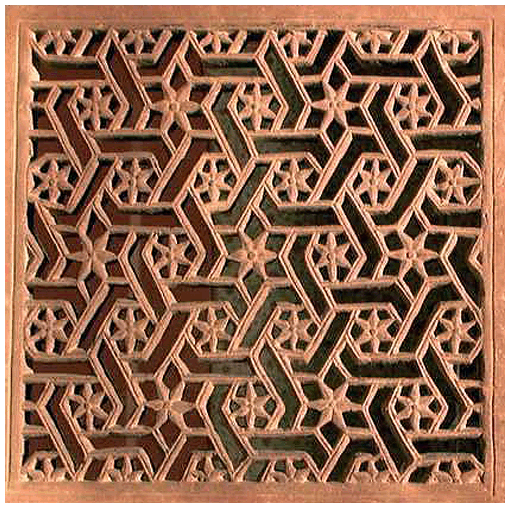 The Stitchers comments:
The panel represents two landscapes one from India and the other Somerset;showing two different cultures united by a common theme - water. The nourishing Tree of Life is fed by water it draws from both cultures.
Participants:
Ann Bailey, Ann Bertalot, Gabrielle Davies, Teresa Foster, Laura O'Gorman, Christine Hellings, Pat Jones, Claire Kingston, Rosie Phelps, Joyce Trikilis